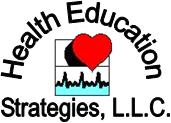 HEALTH EDUCATION STRATEGIES, LLC
A CPR-First Aid Training Company Located in Southeast Michigan
We are an American Heart Association Approved National Training Site with over 25 years experience in the industry. As a CPR-First Aid training company, we provide quality AHA training at an affordable price. We train health care professionals, corporate and industrial employees, daycare workers, teachers, lifeguards, students and parents. For those requiring a more advanced certification such as ACLS or PALS, we offer this training as well. Contact us to see how we can best meet your needs.
We Help People Learn To Save Lives
CPR Training. It may be the most valuable lesson a person can learn: How to save the life of a loved one, teacher, co-worker or friend by performing the simple steps of CPR.
CPR can make the difference between the life and death of a loved one. It can double or triple a cardiac arrest victim's chance of survival.
Interested in becoming an AHA Instructor?
We offer courses that teach you how to become a Certified AHA Instructor in the fields of: BLS, Heartsaver, First Aid, ACLS, ACLS-EP and PALS.
DUE TO THE NOVEMBER 2015 GUIDELINE CHANGE from the
American Heart Association,
HES has suspended all instructor courses intil 2016.
Once the new published instructor materials are available,
instructor classes will resume.
Our Training Location Has Moved
We are now located just down the street from our office on Allen Road in Allen Park. North of Wick Road. Click on the maps link or simply call our office.
Comments from our satisfied students:
" Very well organized. Loved Instructors." - PALS 11/24/2014
"Great Instructor. Would recommend to friends/co-workers." - BLS Healthcare Provider 12/1/2014
"This is awesome! I loved that it was hands on." - BLS Healthcare Provider 12/1/2014
"Very good course. Would definitely recommend to my co-workers." - ACLS 12/14/2014
"I always enjoy Dr. Enriquez's lectures. Your entire staff is very knowledgeable & friendly. Excellent Instructors." - ACLS 12/14/2014